The time for speculation is over: China has revealed the extent of the damage that Covid-19 has inflicted on its economy at the start of this year.
The National Bureau of Statistics's (NBS) data for the first three months of 2020 shows a dramatic 6.8 percent fall in China's GDP from a year ago. On a quarter-to-quarter basis, the Chinese economy shrunk by 9.8 percent.
Industrial production experienced the biggest drop, with the manufacturing sector shrinking by 9.6 percent year-on-year. Agriculture and services also suffered, albeit to a lesser degree, with those sectors declining by 3.2 percent and 5.2 percent respectively.
The data marks the first quarter-on-quarter drop in China's GDP since the financial crisis began in 2007 and the first year-on-year decline since the late 1980s.
Table – Quarterly GDP Growth (YoY)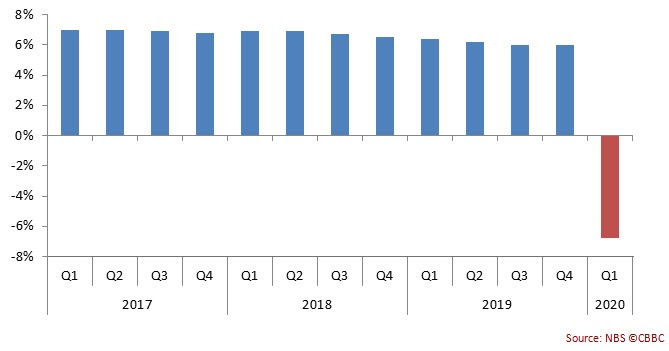 The NBS also revealed that China's national industrial utilisation rate had dropped from 77.5 percent to 67.3 percent in the first quarter. Consumption declined by 19 percent while individual income rose by only 0.8 percent compared to the first three months last year, although this marks a de-facto decrease of 3.9 precent if adjusted for consumer price inflation.
Despite the gloomy news, the contraction was less than many had expected: Goldman Sachs, for example, had forecast a 9 percent output drop, while the China Beige Book predicted a double-digit slump. Yet while doubts about the accuracy of China's official GDP figures remain, the negative official GDP reading indicates that Beijing has acknowledged the heavy economic toll inflicted by Covid-19.
Recent economic figures are looking more optimistic. According to Trivium's National Business Activity Index, 82.8 percent of Chinese businesses have now resumed work following the lifting of COVID-19 related restrictions. A recent poll by the US Chamber of Commerce also showed that almost half of American businesses in China have already resumed their operations or are expecting to do so before the end of April.
Finally, there are signs that the central government is planning to roll out a far stronger stimulus package than it has done so far.  A recent article on the front page of the People's Daily called for a massive increase in domestic demand to safeguard people's livelihoods and protect the poor.
Rather than ditching growth targets, as the Financial Times has suggested, Beijing could instead be getting ready to launch a new round of massive government investment to offset the disappointing first quarter, even though concerns over debt will likely limit the overall scope of the support measures.